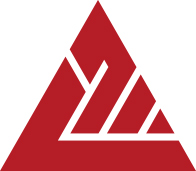 The word Kureha, representing the name of the place where Kureha Boseki was founded, is deeply rooted in the history of Japan's textile industry.
The Japanese spinning and weaving technologies, which has its roots in China, was brought by weaving girls who came from the ancient Chinese nation of Wu to work for the Japanese government is Yamato Court as naturalized Japanese. Those women were called "Kurehatori" or "Ayahatori."
The company emblem has been designed by positioning three katakana letters to spell Kureha to form a triangle.